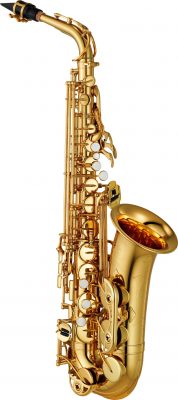 Overview
The 480 have many of the same features found on our professional saxophones that provide these intermediate saxophones with greater playability and optimum tone. These are instruments that bring out the best of the performer and ideal choice for up and coming players.
Specifications
Key of Eb
Neck: Annealed; Original YAS-62 design
Neck, Body, Key Material: Yellow Brass
Key Buttons: Polyester
Finish: Gold Lacquer
Tone Holes: Drawn
Auxiliary Keys: Front F; High F# Key
Mouthpiece: AS-4C
Spring Type: Stainless Steel
Pad Type: Waterproof leather and wool felt with plastic tone boosters
Bell Decoration: Stamped
Thumb Hook: Adjustable Plastic

*All step-up instruments are covered by Star City Music's 90 day repair coverage. We will repair your instrument excluding catastrophic damage to ensure it is playable and functioning for proper use.