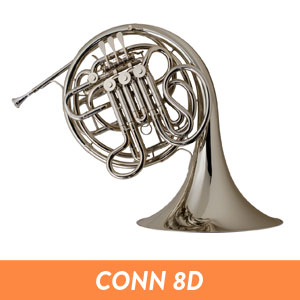 Overview
The C.G. Conn 8D has been one of the world's most popular horns for decades. It maintains a design that makes the horn very responsive and free-blowing with excellent tonal balance. Its traditional large throat bell and all nickel construction give a beautiful, dark sound with rich depth. The clear lacquer finish provides a subtle warmth to the overall sound. Well suited for players of all ages and abilities.
Specifications
Key : F/Bb
.468″ bore
Kruspe wrap
12-1/4″ large throat nickel silver bell
All nickel silver construction
Tapered rotors and bearings
Mechanical change valve
Adjustable lever bridge
Clear lacquer finish
Conn7BW mouthpiece
7614C plastic shell case

*All step-up instruments are covered by Star City Music's 90 day repair coverage. We will repair your instrument excluding catastrophic damage to ensure it is playable and functioning for proper use.